The oral cavity is an intricate ecological system which consists of a diversity of different microorganisms. Every day, the more than 200,000 dentists nationwide face risk of inhaling viruses, fungi, and an assortment of bacteria while cleaning the mouths of their patients. Aerosols, defined as extremely small particles or droplets suspended in air, run rampant at dental offices as dentists use their high-speed equipment in the presence of saliva.
With many dental professionals not protecting themselves or their patients with correct fitting, such as products that protect nasal passages, it's time to re-evaluate the conversation of aerosol management when it comes to dentists and their patients.
The Oral Cavity and It's Bacteria
The mouth can harbor infectious strains that, when aerosolized, can suspend in the air for up to 30 minutes. With over 700 species of bacteria that can exist in the mouth, the species living in our oral cavity are primarily inclusive of the six varied groups:
Actinobacteria
Bacteroidetes
Firmicutes
Proteobacteria
Spirochaetes
When inhaled, these aerosols found in dental offices can transmit diseases and can cause respiratory issues. Studies show that ultrasonic scalers produce the most intense aerosols in common dental practices. Although, other standard dental procedures, such as operating the air-water syringe or tooth preparation, can emit harmful aerosols as well.
The Contaminated Environment of Dental Offices
In addition to bacteria, common dental aerosols include particles of tooth, saliva, tissue, and blood elements. The most alarming aerosolized particles come in the form of viruses. The following viruses all harbor the risk to be transmitted through aerosol particles:
Pneumonia
SARS
Pharyngitis
Sinusitis
Influenza
Swine Flu
Common Cold
In recent years, a high number of emerging infections have shown to be those in the respiratory tract, which spread via droplets and aerosols. Measles is another highly contagious transmissible virus that lives in mucus and infects the nose and throat areas. Dental practices must be aware of breakouts in their community and ensure patients are screened prior to their appointment.
The particles produce by viruses can withstand survival in the air for hours. As the particle size of an aerosolized air particle is much less than 50m, the prevalence of these tiny harmful dental aerosols calls for appropriate preventative measures to ensure the safety of both dentists and their patients.
Preventative Measures Dentists Should Take
With face masks becoming widely used across America during recent years, this is an impactful step that lessens the likelihood of aerosolized particles transferring between dentists and patients. Although, this merely forms a one-sided protection as the patient can't wear a mask while being under care.
In regards to the safety of the clinic, HEPA filters and other air sterilization equipment should be in place. It should be common practice for dental equipment to be sterilized after each patient. In addition, using thin plastic disposable guards to cover surfaces like controls and keyboards helps reduce surface contaminations. Further measures can be taken to minimize cross-contamination.
The Convenience of Nose Filters at Dental Offices
While our nasal passageways try their best when it comes to filtering airborne particles, they aren't perfect. That's why O2 Nose Filters are such an effective solution when it comes to improving our mental and physical health. Nose filters are a discreet, effective option to protect against airborne particulate matter created during dental procedures. The O2 Nose Filter uses electrostatic technology from 3M to capture allergens, viruses, and other particulates, making them a valuable addition to any dental clinics current preventative practice.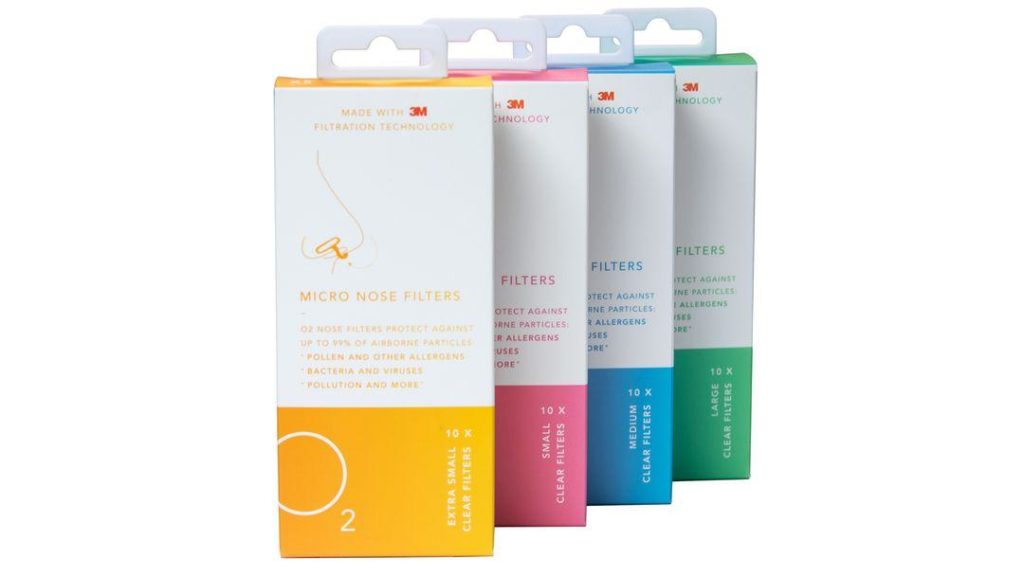 BLOCK IT OR BREATHE IT
Click here for a FREE (+S&H) sample pack to see which size works best for you!