Canada is home to roughly 9% of the world's forest, and 2023 is unfortunately predicted to see the country's most destructive wildfires in over 30 years. Uncontrollable blazes have developed in every corner of Canada, burning 29,000 square miles and releasing a record 160 million tons of carbon in the process, which has forced tens of thousands of citizens to evacuate their homes. Below we'll discuss where these smoke plumes are traveling, the harmful affects of inhaling wildfire smoke, and what you can do to best protect yourself and your loved ones. Finally, click here to discover a simple way to receive a FREE sample pack of O2 Nose Filters to stay safe throughout the 2023 wildfire season.
---
Where Are the Canadian Wildfire Smoke Plumes Traveling To?
First off, Canada has issued air quality warning for the cities of Toronto, Ottawa, and Quebec. Montreal, in particular, had the worst air quality in the world throughout Monday, 6/26. Across the country, Canadians are forced to shut down certain businesses, outdoor facilities, pools, and other scheduled outdoor activities. Furthermore, with 2 months remaining in their typical wildfire season, citizens across the country are only expecting the smokey plumes to intensify and the air quality to worsen.
From the Northeast, to the Midwest, and mid-Atlantic, approximately 50 million Americans are currently under air quality alerts due to Canada's wafts of wildfire smoke. While New York City was seen to be blanketed in smoke earlier in June, these plumes have spread across much of the United States. These following states have issues air quality alerts for their entire states:
Iowa
Wisconsin
Illinois
Indiana
Michigan
Delaware
Maryland
The following states have issued air quality alerts for parts of their states:
Kansas
Missouri
Minnesota
Ohio
Pennsylvania
New York
Virginia
Unfortunately, these smoke plumes have crossed the North Atlantic Ocean which will likely make for hazy skies in Europe soon. Additionally, click the provided link to see moment-to-moment live updates of how air quality is affected worldwide by the smoke from Canada's wildfires.
---
What Are the Harmful Effects of Inhaling Wildfire Smoke?
As we've previously written a blog detailing the harmful effects of inhaling wildfire smoke, click here to read that full report. Wildfires expose populations to multiple environmental hazards, from combustion due to the fire itself, to air pollution from the smoke and byproducts such as ash. In addition, when wildfires move through communities, chemicals in plastic and other manufactured products can be released into the air from burning structures and furnishings.
Those with heart or lung disease, including asthma and COPD (chronic obstructive pulmonary disease), older adults, and children, are at higher risk from particle pollution exposure. The effects of smoke range from eye and respiratory tract irritation to more serious disorders such as reduced lung function, bronchitis, and exacerbation of asthma. Particles sized PM2.5 and smaller can be inhaled deep into the lungs where they can cause irritation. This may lead to inflammation that affects other parts of the body. Particles PM2.5 and smaller can also irritate the eyes, nose, and throat.
---
How to Best Protect Yourself From Wildfire Smoke
According to the CDC, there are multiple things you can do to minimize your risk of exposure. The first step is to remain indoors while keeping your windows and doors closed. If you have an air conditioner, keep the fresh-air intake closed and the filter clean to prevent outdoor smoke particles from getting inside. Also avoid doing anything that adds to your indoor air pollution; don't burn candles, ignite your fireplace, or even vacuum as that can stir dust up dust.
Children face higher risk from air pollution because they often spend more time outdoors engaged in activity and they breathe more air per pound of bodyweight than adults. They are also more susceptible to the effects of air pollution because their airways are still developing.
The best approach is to proactively protect yourself from particles in the air, however you'll need protection that is effective at blocking the small particles (a high percentage are in the PM2.5 range) that are generated by fires and smoke pollution.  A typical surgical mask won't work because it doesn't effectively block particles smaller than 100 microns.  A properly fitted N95 mask is a viable option, but many people find a full, tightly sealing face mask uncomfortable, especially in hot, humid weather. 
The answer is a brand-new innovation called O2 Nose Filters. A practically invisible filter that is comfortable to wear all day. They utilize 3M's state-of-the-art filtration technology to block 65% of particles at PM2.5 and over 90% of particles at PM10! The revolutionary 3M filter technology uses electrostatic attraction to capture microscopic airborne particles like a magnet. This is an excellent solution to protect yourself and loved ones from wildfire smoke as well as airborne allergens, pollution, and pathogens.
O2 Nose Filters come in five sizes to ensure a perfect fit. You can get a free sample pack with the four most common sizes to find the perfect size for you…so why not give O2 Nose Filters a try?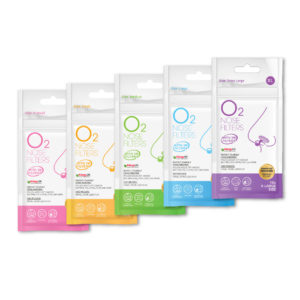 BLOCK IT OR BREATHE IT
Click here for a FREE (+S&H) sample pack to see which size works best for you!