Electrocautery machines and lasers are frequently used by more than 500,000 doctors and nurses across America. The purpose of these tools is to assist in the treatment of cancers, including cervical or ovarian cancer, as well as an assortment of other important medical uses. Common healthcare devices such as these run the risk of emitting gaseous byproducts, called surgical smoke, which poses numerous risks to the medical professionals who inhale these dangerous chemicals.
What is Surgical Smoke?
The Association of Perioperative Registered Nurses (AORN) began the critical nationwide conversation on the risks of surgical smoke in the 1990s. Shortly afterward, in 1996, the National Institute for Occupational Safety (NIOSH) publicly recommended the control of surgical smoke created during both electric and laser surgical procedures. Despite this concern sparking a nationwide conversation for nearly thirty years, very little action has been taken to protect our healthcare professionals across America.
Surgical smoke is produced when tissue is cauterized by heat-generating devices such as drills, saws, lasers, ultrasonic devices, and high-speed burrs. The intense heat of these devices chars cells and releases harmful gaseous contaminants into the operating room. This surgical smoke, also known as a smoke plume, is composed of 95% of water and 5% of other potentially harmful matter including bacteria, viruses, and other blood and tissue particles. Other toxic chemical byproducts found in smoke plumes include:
Ethyllbenzene, found in styrofoam
Perchloroethylene, found in cleaning fluid
Formaldehyde, found in embalming fluid
Benzene and Toluene, well-known carcinogens
As surgical smoke is composed primarily of water, it provides a perfect vessel to carry cancer cells and infectious diseases such as HIV and HPV. In addition, researchers have identified more than 80 toxic chemical compounds often found in surgical smoke.
Side Effects of Inhaling Surgical Smoke Plumes
While it does have an unpleasant odor, surgical smoke is typically not visible. Nurses, doctors, technologists, members of the surgical team, and even patients run the risk of inhaling these harmful chemicals. Little is currently known about the long-term health effects of chronic exposure to surgical smoke, but immediate health effects can include:
Cough and asthma-like symptoms
Headache
Vomiting
Skin irritation
Nasal congestion
Irritation of the eyes, nose, and throat
Several sources report that surgical smoke has similar carcinogenic properties to that of cigarette smoke and it is clear that this is a crucial issue we're just beginning to understand. In 2020, Mark K. Soliman, MD, a consultant surgeon of the Florida Hospital Cancer Institute stated:
"Surgical smoke is one of those things that surgeons, myself included, have been completely blind to, I didn't even consider it, truthfully. It wasn't until COVID-19 that we actually started doing more research, discussing the issue, and being more thoughtful about the problem."
The Future of Healthcare Professionals
Despite a growing conversation over the past thirty years, legal action only just began taking place in 2019. Two states, Rhode Island and Colorado, have laws requiring hospitals and surgical centers to eliminate their surgical smoke. In 2021, legislation has been introduced in eight more states (Connecticut, Georgia, Illinois, Iowa, Kentucky, Oregon, Tennessee, and Utah).
In the two current states that enforce laws on surgical smoke emissions, their primary way of doing this is by installing local exhaust ventilation (LEV) in operating rooms. Studies found that less than half (47%) of these operating rooms were using LEV during laser surgery, and even fewer (14%) were using LEV during electrosurgery. It's clear that this ventilation isn't commonly used and that these nationwide practices aren't near enough to protect our healthcare professionals from toxic smoke plumes.
O2 Nose Filters
While particles from surgical smoke can vary in both size and impact, viruses and bacteria are among the smallest and most dangerous of emissions found in surgical smoke plumes. Fortunately, O2 Nose Filters are up to 90% effective against viruses and bacteria. O2 Nose Filters are designed for one-time use for up to 12 hours and the discreet, comfortable design is paired with 3M electrostatic material to capture airborne particles like a magnet. Testing of the filter material has demonstrated 65% efficiency at PM2.5, so breathing through your nose while wearing O2 Nose Filters can help mitigate your risk of inhaling surgical smoke.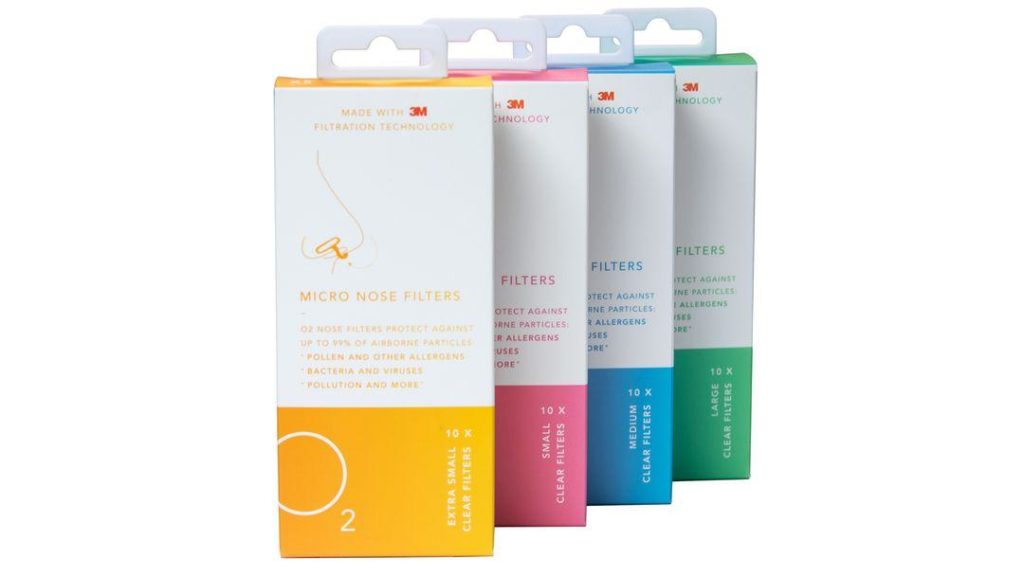 BLOCK IT OR BREATHE IT
Click here for a FREE (+S&H) sample pack to see which size works best for you!