The Centers for Disease Control and Prevention (CDC) recently announced that fully vaccinated people do not need to wear masks in most indoor and outdoor settings, while still following federal, state, and local rules.
After 14 months of pandemic precautions, people are trying to make sense of what the new guidance means for their daily lives, and some are feeling uneasy about 'going back to normal.' Many have stated that, while they are fully vaccinated, they intend to keep wearing a mask in public settings. This might leave you asking "So, when should I wear a mask now?"
---
Taking Precautions
If you want to be cautious, it's a good idea to continue wearing masks in crowded spaces – this can help reduce the chance that your community will experience a breakthrough infection. The CDC cannot provide the specific risk level for every activity in every community. It is important to consider your own personal situation and the risk to you, your family, and your community before venturing out.
The most recent guidance still calls for wearing masks in crowded indoor settings like buses, planes, hospitals, prisons, and homeless shelters, but it will help clear the way for reopening workplaces, schools, and other venues – even removing the need for social distancing for those who are fully vaccinated.
---
Have You Been Fully Vaccinated?
In general, people are considered fully vaccinated:
Two weeks after their second dose in a two-dose series, such as Pfizer or Moderna vaccines, or
2 weeks after a single-dose vaccine, such as Johnson & Johnson's Janssen vaccine
If you don't meet these requirements, regardless of your age, you are NOT fully vaccinated.
---
What Can You Start to Do?
According to the CDC, if you've been fully vaccinated, you:
Can resume activities you did prior to the pandemic.
Can resume activities without wearing a mask or staying 6 feet apart, except where required by federal, state, local, tribal, or territorial laws, rules, and regulations, including local business and workplace guidance.
Do NOT need to get tested before leaving the United States, unless your destination requires it, or self-quarantine after arriving back in the United States.
Can attend gatherings in both an indoor and outdoor setting. If you are at an event and the host has a mask policy, you should still abide by that and be conscientious of other guests.
---
What You Should Keep Doing
Even if you are fully vaccinated, you will still need to follow the guidance at your workplace and local, independent businesses. If you travel, you should still take steps to protect yourself and others. You will still be required to wear a mask on planes, buses, trains, and other forms of public transportation. You should still watch out for symptoms of COVID-19, especially if you've been around someone who is sick. If you have symptoms, you should get tested and stay home and away from others.
---
An Additional Layer of Protection
Whether you want to continue to wear a mask or not after being fully vaccinated, there are other ways to provide protection against airborne pathogens. "A 'naked' virus can't go anywhere unless it's hitching a ride with a droplet of mucus or saliva . . . these mucus and saliva droplets are ejected from the mouth or nose as we cough, sneeze, laugh, sing, breathe, and talk." The 3M electrostatic filter material in O2 Nose Filters captures 65% of particles PM2.5 or larger, 90% of particles PM10 or larger, and the effectiveness rapidly approaches 100% above PM10 – making them a discreet and effective way to protect yourself against aerosolized droplets. O2 Nose Filters are great for indoor situations when it is difficult to wear a mask, like eating or drinking in a restaurant, or used as an additional layer of protection under your mask while in crowded spaces or while traveling on planes, buses, and other public transportation.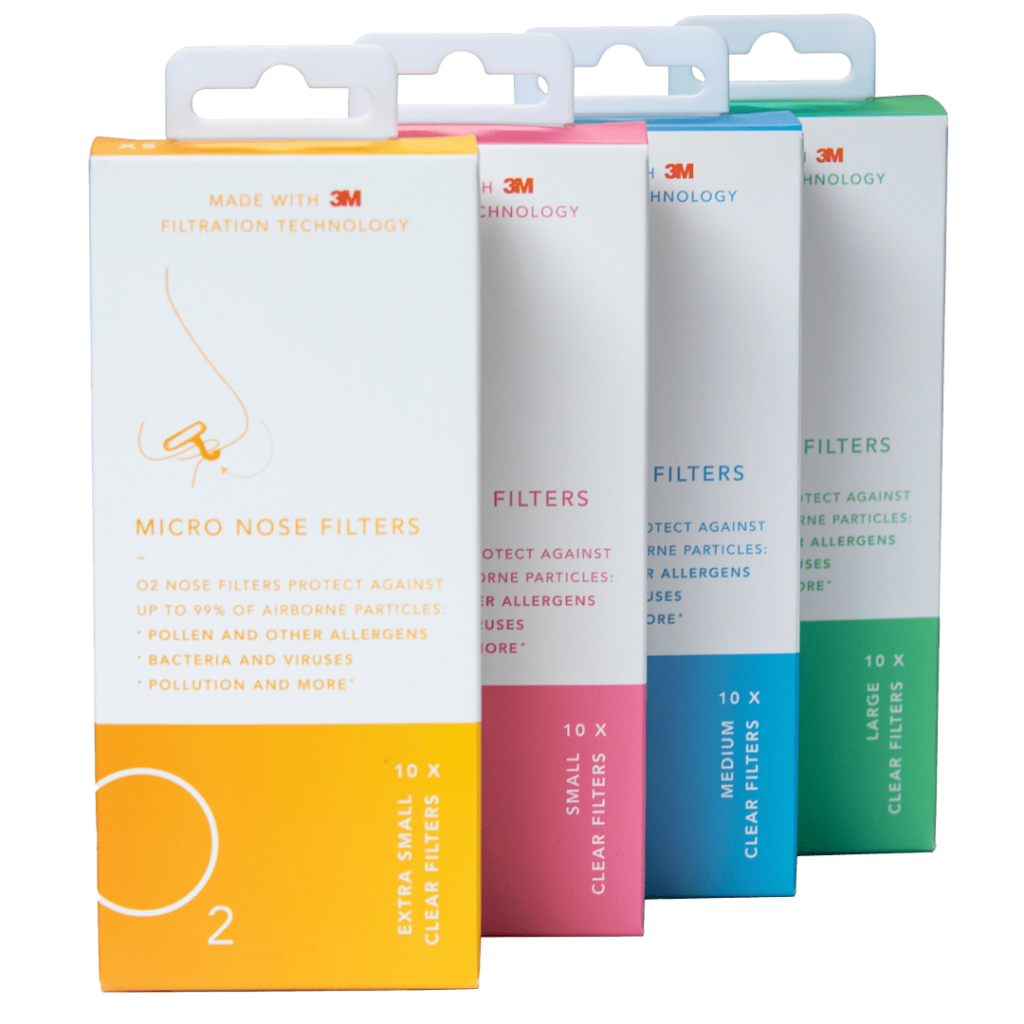 BLOCK IT OR BREATHE IT
Click here for a FREE (+S&H) sample pack to see which size works best for you!